The Bombardier Never Flew Combat Again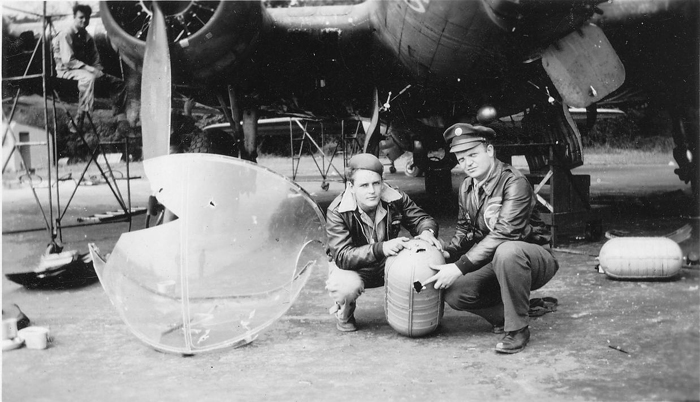 Clayton Crew Tail Gunner "Kansas" Boydston and Radio Operator "Liz" Lisenby pose in front of shot-up B-17G-20-DL, Ser. No. 42-37982, (SU-K), "Tremblin Gremlin" in August of 1944.
Eerily, the damages are very similar to those suffered on the January 30th, 1944 mission to Frankfurt, Germany. The nose was shattered and the No. 3 and possibly one other engine were knocked out on that mission. Clayton crew bombardier, 2nd Lt. Richard M. Dolf, was seriously wounded in the knee by flak on that mission and never flew combat again. He was replaced by toggler T/Sgt. Robert Corpening.
"Tremblin Gremlin " continued to serve until it was finally lost on the September 19, 1944 mission to Hamm, Germany.
Photo courtesy of Miles F. Lisenby
Home About Us Pre-WWII WWII 1960s Vietnam Era Borate Bombers War Birds