2nd Lt. Joseph (Murphy) Uniszkiewicz- After Historic 04/06/44 Berlin Mission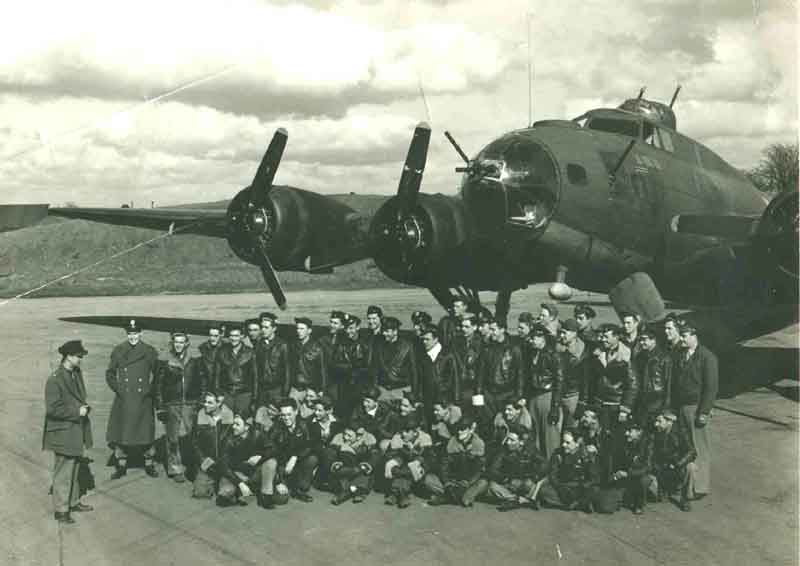 The Clayton crew was one of five 384th BG crews that flew on the very first 8th Air Force bombing mission to Berlin. Here, the 384th BG crews who flew this mission assemble for a post-mission photo. 2nd Lt. Joseph K. Uniszkiewicz, (Clayton's navigator) wearing dark gloves, is standing 5th from the right in the 2nd row from the back.
In the 384th's summary report for this mission, Uniszkiewicz and S/Sgt. Cameron (Clayton's ball turret gunner) were quoted as follows:
"... they were using rockets" said 2nd Lt. Joseph K. Uniszkiewicz, navigator for Lt. John E. Clayton. "I saw the rockets catch two forts. Couldn't even see a piece of metal when the smoke cleared." Lt. Uniszkiewicz said the rockets left a twisting trail of smoke as they shot up, then exploded into a violent ball of fire. "I also saw a 210 explode in air, but not as a result of rockets," said Lt.Uniszkiewicz. "It had made a pass at a straggling B-17, then two Mustangs jumped on him. Flames began shooting out of his cowling, then he simply blew up."
"Our bombs hit amongst a section of buildings," said S/Sgt. Francis R. Cameron, ball turret gunner for Lt. Clayton. "There seemed to be an explosion of something. A lot of smoke was piling up from one point." Source: Microfilm #B0374, AFHRA/RSA

Lt. Uniszkiewicz served with the Clayton crew until most of them had completed their quota of missions. Being one mission short of fulfilling his obligation, he signed on as navigator for 1st Lt. James E. Foster's crew on B-17G-20-BO, Ser. No. 42-31495, "Wabbit Twacks", for the May 8th, 1944 mission to Sottevast, France. The aircraft was blown out of the sky and all the crew were killed.
Photo: Courtesy of USAF, Original print via Stephen Uniszkiewicz
Home About Us Pre-WWII WWII 1960s Vietnam Era Borate Bombers War Birds