A-20 and B-26 Instructional Airframes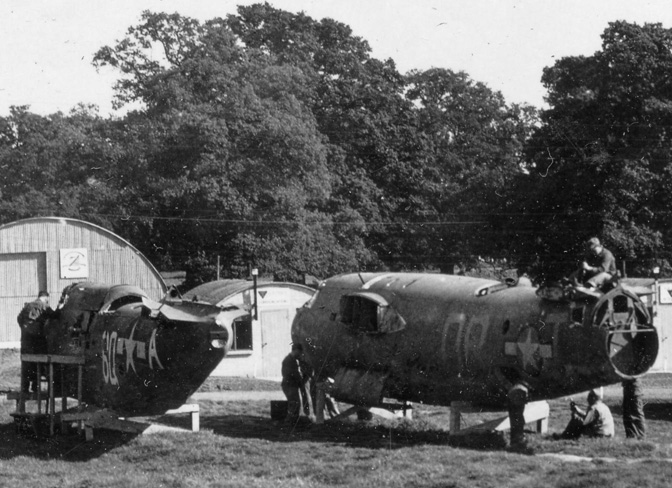 Convalescing from war wounds, airmen maintain old skills and learn new ones at an Army Rehabilitation Center somewhere in England. Lt. Jackson was assigned to the rehabilitation center at the 307th Station Hospital during his lengthy convalescence. (Summer, 1944) Besides the Douglas A-20 Havoc (6Q+A) and Martin B-26 Marauder (DR+T), there was also a Boeing B-17 instructional airframe nearby.
(03/28/04) Following information kindly supplied by Alf Egil Johannessen of Norway:
6Q+A, Serial No. 44-179, was an A-20K-10-DO built at the Douglas plant in Santa Monica, CA. The A-20K model had a glass nose for a bombardier, and was used as a lead ship on bombing runs. Prior to becoming an instructional airframe, 6Q+A was assigned to the 410th BG, 647th BS. The 410th BG was based at Gosfield, England from April to September, 1944. It then moved to France. Existing photographic evidence shows 6Q+A made a belly-landing prior to the June 6, 1944 invasion of France which may be why it ended up as an instructional airframe.
DR+T, Serial No. 41-17995 was a B-26B4-MA built at Martin's Maryland factory and was delivered to the U.S. Army Air Force on January 7th, 1943. When it was assigned to the 322nd BG, 452nd BS, it was given the name TONDELAYO. The 322nd BG was originally assigned to the 8th Air Force in England. The 452nd Squadron (of the 322nd BG) arrived in England with its B-26s in April, 1943. After a period of working up, the 322nd BG flew its first mission on May 14th, 1943. Twelve aircraft were sent to bomb power plants at Ijmuiden in Holland. All returned safely, however, the damage on the target was slight. Therefore, on May 17th the 322nd BG flew a follow-up raid (11 planes), and lost 10. DR+T participated in the first raid (May 14th) but not in the second one (May 17th). It was later renamed MR. PERIOD TWICE because it missed this disastrous follow-up raid.
Home About Us Pre-WWII WWII 1960s Vietnam Era Borate Bombers War Birds